Self Supported Bikepacking | Bersillies-l'Abbaye | August 21 st 2024
Arden2Eifel is a non-stop, GPS-tracked self supported bikepacking challenge with a group start and a cut-off time for completing the course. It covers an off-road A to B route with 2 staffed checkpoints, going from a small town in the South-West Belgian Ardennes to the historical city of Trier in Germany.
​Arden2Eifel will see its first edition on August 21st 2024. Registration opens November 1st 2023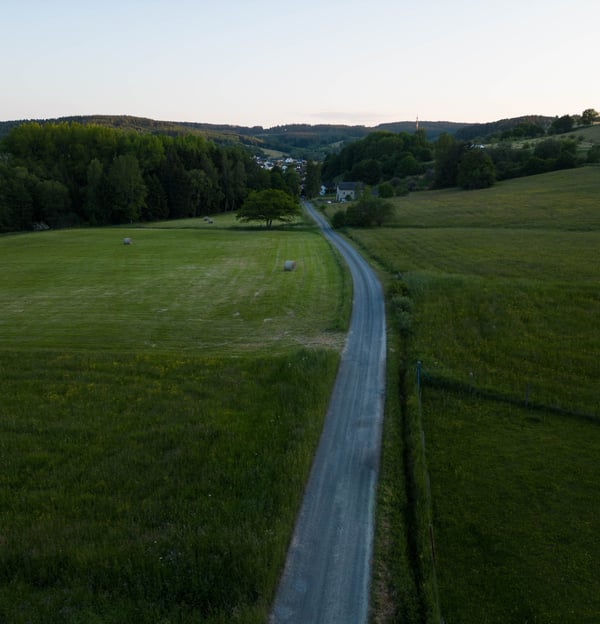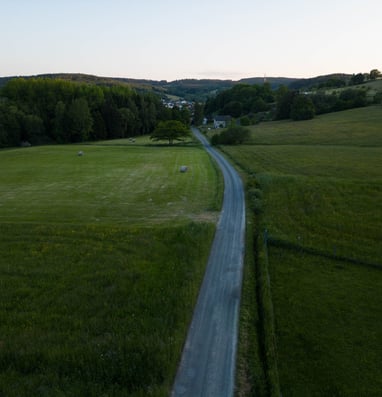 660 km | 12.000 elevation | 96h cut-off
Self supported bikepacking |
21 August 2024
MTB | 4 countries | 2 staffed checkpoints
Arden2Eifel is a self-supported bikepacking challenge that spans multiple days and could be considered 'mid-distance' in the line-up of events. The route is purposely made challenging, but without going overly extreme. Participation should however not be taken lightly, as it includes various sections that require walking or very technical riding (even more so in the dark). Recommended rig would be a mountainbike.
​The terrain and scenery varies greatly. The surface ranges from open fields intersected by broad gravel roads with agreeable gradients to dense forest single tracks and steep hiking paths alongside rocky formations and rivers. Along the track there will be stunning backroads and scenic views set with historic landmarks, sleepy villages and touristic hotspots (re-supply should not be too problematic). This challenge is not a race, so we strongly emphasize to respect others on the track and respect local traffic laws.
​The concept of a self supported challenge means you are not allowed to have any support during the event outside what is commercially available while on route. Goods, services or lodging (if you prefer) can only be bought, used or secured after the moment of the start. You must travel on a human-powered bike and must finish with the same kit.
​Lastly, we stand for the principles of leave no trace. No litter or other objects are to be left on the course. Intentional deviation of this principle leads to disqualification.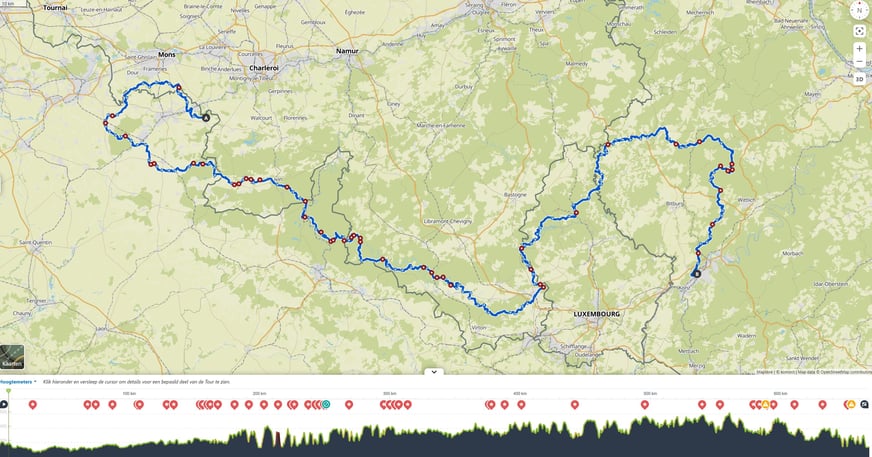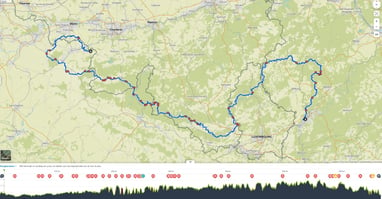 The route of Arden2Eifel starts in Belgium and almost immediately enters France. Here, it moves from relative flat, open fields to the steep riverside sections of the French and Belgian Ardennes from where it traverses Luxembourg and follows dense, hilly, forests into the beautiful Eifel region with the finish in Germany's oldest city Trier. The route is more than 75% offroad (MTB recommended) and will hold 2 staffed checkpoints.
Note: the route is still being finalized and may see some changes based on recon rides.
Registration Arden2Eifel | Self Supported Bikepacking
Bersillies-l'Abbaye - August 21st 2024
Registration opens November 1st 2023. Entry will be around Euro 80 (Solo) and Euro 145 (Pairs). Included; GPX route-file; GPS tracker (additional deposit required which is returned after return of tracker); numbered race cap; staffed checkpoints. Please note registration requires you to sign a liability waiver and show proof of insurance (health and liability) and medical fitness.
Currently, the start is foreseen in Bersillies-l'Abbaye, Belgium (8 km from the train station of Erquelinnes and about 30 km from Charlerois) . There will be a group start at 09.00 AM on Wednesday August 21st.
The challenge follows a fixed offroad route. If you leave the route during the challenge (eg for re-supply) you have to re-enter the track on the same point you left it. GPS tracking devices will be provided. The final route will be shared in the weeks prior to the challenge to ensure the track is up to date.
The time limit is set to 96 hours for completing the full course. If you do not reach the finish before ... don't worry and enjoy the ride, but you will not be included in the results.
You are required to bring:
1. Personal ID
2. Technically sound bike + helmet
3. First aid kit (incl. emergency blanket)
4. Navigation device
5. Lights (front and back)
6. Safety vest (required by law in France)
7. Waterproof jacket
The route is designed as a off-road mountain bike course and we strongly recommend to bring a bike with at least 47 mm tires. Although parts of the route may be suited for gravel bikes, there are multiple technical sections where a mountainbike is the way to go.
Arden2Eifel is not a race. When picking up rider accreditations, you will be given a GPS tracker for digital visibility on the track. However, the organization won't provide any kind of insurance for the challenge and will not be held liable for any damage whatsoever that may occur directly and/or indirectly to you or other parties.
In case you changed your mind or are unable to participate, the following applies. Full refund until 3 months before the start. 50% refund until 1 month before the race. No refund in last month to the start (due to costs made by organization).
Because it is an A to B track we offer the possibility for transport of a small backpack (max 15L) to the finish line.
Djoeke Donkers and Jefte de Bruin have been passionate about cycling for more than 20 years. Over the years they transitioned from road racing to mountainbiking and hike-a-bike-bikepacking.

Since 2019 they are avid bikepackers going on regular trips, but also doing events like
- Atlas Mountain Race
- Seven Serpents
- French Divide
- Across the 3 / Champs

Being passionate about bikepacking and route-building, it feels a natural next step to create a challenge of our own to share.

We look forward to greet you.